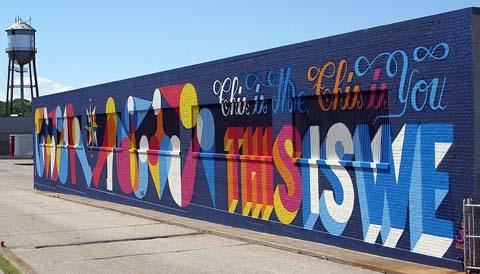 Read more about Broad Avenue's place amidst many city-wide revitalization movements, which mostly started with the rejuvenation of West Memorial's base of operations to create custom monuments and cemetery markers used around the country…and around the world.
CLICK HERE to read the whole article.
IN BINGHAMPTON, ABOUT FIVE MILES FROM DOWNTOWN, THE BROAD AVENUE ARTS DISTRICT IS A NOTABLE EXAMPLE OF AN ARTS-BASED CORRIDOR REVITALIZATION. GUILLAUME ALBY'S MURAL, THIS IS WE, FACES A HALF-MILE-LONG STRIP OF GALLERIES, RESTAURANTS, BARS, AND BOUTIQUES—BUSINESSES THAT OFTEN SIGNAL SUCCESSFUL CULTURE-BASED REINVESTMENT.