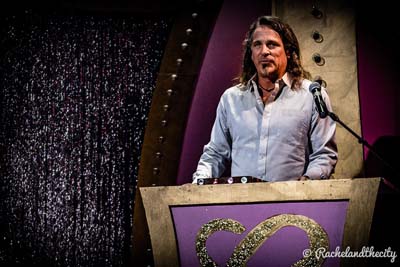 CLICK HERE to read the full article.
Paul West, CEO of West Memorials, and President of the Historic Broad Business Association, accepts the award on behalf of the HBBA.
BROAD AVENUE – ARTS DISTRICT
The MMDC is pleased to honor the people behind the new life on an historic Memphis street. Broad Avenue (in the early days the main street of Binghampton) was a thriving area of warehouses, stores and saloons for decades. Then eastward movement of the population combined with the bitter battles over Interstate 40 resulted in Broad being cut off from commerce. But now the Avenue is back, thanks largely to the transformative power of art and artists.
The Historic Broad Avenue Arts Alliance is a volunteer group of business owners and residents who push for the redevelopment of Broad Avenue and Binghampton through economic development and promoting and fostering art activities. The result of those efforts has been $30 million dollars in economic development.
On Broad Avenue you will find eclectic offerings of art, home furnishings, clothing, artisan made crafts and high fashion. Artists are at work in studios dedicated to classical dance, painting, sculpting, jewelry design, tattooing, photography. And much more. Also on Broad are businesses offering countertops, restaurant equipment, pet supplies, custom framing. And it's home to the nation's only custom memorial design studio. Four companies on Broad specialize in marketing and digital design. And there's a bike repair shop that also serves beer.
With the commercial and artistic traffic came food and entertainment; five restaurants and bars, a beer tasting room and two coffee shops. There are also indoor and outdoor event spaces.
You can't miss the new Broad Avenue. It's right there beneath that great old water tower.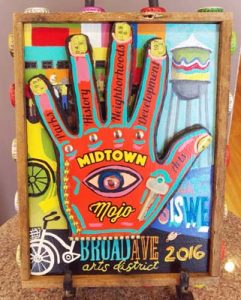 (Photo credit: Rachel and the City)