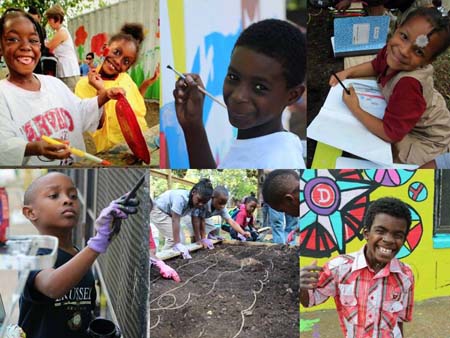 CLICK HERE for more information about the event.
Especially in love with our street and community, West Memorials is hosting the Carpenter Art Garden's art show, featuring works for sale by the kids from Binghampton and the local artists who taught them.
The date is Friday, April 1, 2016, from 5:30 pm – 8:00 pm, when the Carpenter Art Garden invites you to fall in love with Binghampton (again)!  You can CLICK HERE to review a video about the organization.  It is also being promoted by the Choose 901 organization, which you can read about HERE.
Teacher artists include Kenneth Alexander, Shelley Bolton, Melissa Dunn, Kenny Hays, Lawrence Matthews, Andrea Morales, Danny Shivers, and Larry Walker.
Proceeds benefit the Carpenter Art Garden, $20 donation at the door with appetizers, beer, and wine served.
CLICK HERE to learn more about the Carpenter Art Garden.
Their mission is working with the children of Binghampton to promote each one's creative potential and self worth through exposure to artistic, educational, and vocational programs.  Their vision is to empower the children of Binghampton to create their best futures.
Photos of teachers, gardening, art, and the many kids who make it happen: